Fancy something tasty to go with your Sainsbury's On the Go Turkey Feast sandwich? You could add a fizzy drink and a packet of crisps to make a meal deal. Alternatively, you could add a copy of issue 18 of Classic.Retro.Modern. magazine.
We're delighted to announce that we've been invited to appear on the shelves of hundreds of Sainsbury's supermarkets, kicking off with issue 18. Kicking off… World Cup… football… geddit? Moving on…
It all starts on 1 December 2022, when the Fiat Panda Italia '90 on the front of issue 18 will be greeting shoppers as they brave the Christmas rush. We're on trial, so if things don't go according to plan, we'll be booted out before Noel has finished delivering his presents. There's another football reference in there. You may have missed it.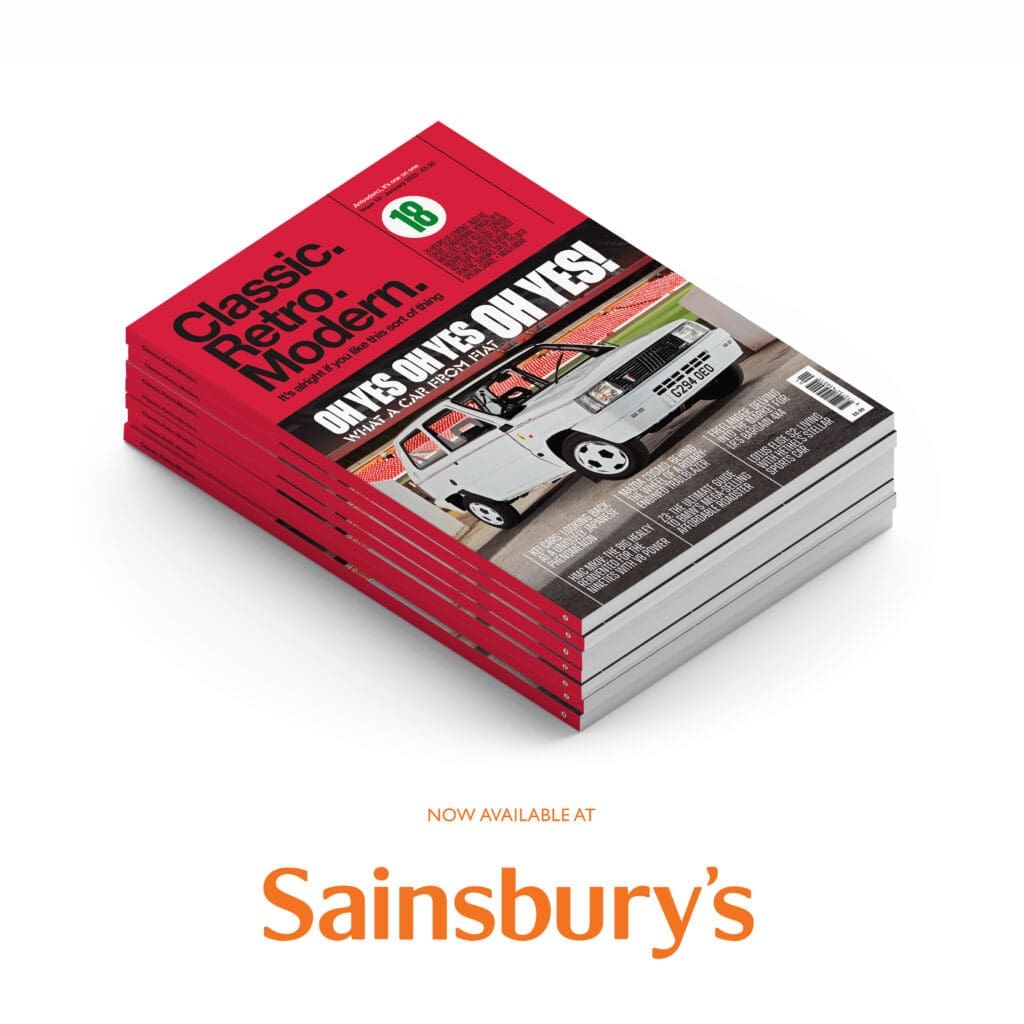 For us, it's like Christmas has come early. Although we're aware that it's only a trial, we're delighted to be given the opportunity to be stocked in Sainsbury's. Breaking into supermarkets was near the top of the wish list when we first started talking about launching a classic car mag this time two years ago. That's 'breaking into' in a business sense – we're not about to stick some crowbars in the boot of a Mk2 Jag.
We won't list every participating store, because it'll take longer than the classified football results on Radio 5 Live. And we know what happened to that. But there are hundreds to choose from – a veritable A to Y of Sainsbury's supermarkets. That's Alnwick to York and Alton to Yarm.
The trial could last no longer than a week, so we'd be delighted if you could lend your support by sticking a copy of our mag in your basket or trolley. Around a tenner is enough for a Sainsbury's meal deal and issue 18. Tasty.
Don't forget, issue 18 is also available in selected Waitrose stores. No sleep until we've conquered Bejam, Fine Fare, Mainstop and Somerfield.
Just one more thing. Our new festive subscription offer means you can get 12 issues of our mag for just £49.99. Subscribe now to have something to look forward to when the World Cup and Christmas are over.
We're off to buy an On the Go Turkey Feast sandwich.
Main image © Sainsbury Archive
Read more
Essential news! We're now available in selected Waitrose stores
Special Christmas Subscription Offer – 12 issues for £49.99. UK only
We're now available at Shell petrol stations